About the Fowlerville District Library
You can find the Library at 130 South Grand Avenue in Fowlerville, Michigan. Our space totals 10,300 square feet. We have a 6-unit computer lab, seating by the fireplace, and easy access to popular materials and new books, as well as an area for teens and diverse programs. Our amenities include a fireplace, reading area, and Historical Collection room. Stop by today and check out your library!
Mission Statement
Together we will enrich our community by providing opportunities for all to learn, grow and connect.
Learn More About Our Library
Fowlerville District Library serves a diverse population in the Fowlerville School District area, which encompasses ten townships in Livingston, Ingham, and Shiawassee Counties. The Library has more than 40,000 items in circulation, and patrons can also choose from a large selection of books, DVDs, eBooks, and books on CD. The Library also offers 24-hour wireless Internet access and 6 Internet-ready computer stations for public use.
Your Library Card
Do you have a library card? If you answered "no," why not have one? Your free library card will give you access to the largest locally-available pool of information and novels. You can easily register by bringing this form to the Library. Just complete the application and bring it with you on your next visit to start swimming in our pool of information. Adults 18 and older don't need to complete an application, just bring a photo ID with proof of current address.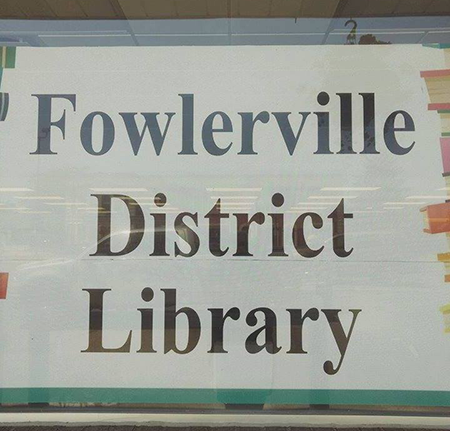 Computer Services Offered
Wireless Internet
– Available Throughout the Library
6 Public Access Computer Stations
– One-Hour Time Limit, Per Day
Access to Office Suite
– Microsoft Word, PowerPoint, Publisher, and Excel
Access to Our Digital Archives, Including:
– "The Fowlerville Review"
– "Fowlerville News & Views"
Digitized Yearbooks From 1950-1970, 1986, 1987, & 1989-2004
Greyscale Copy Center
– $0.10 Per Page